Heidi Neilson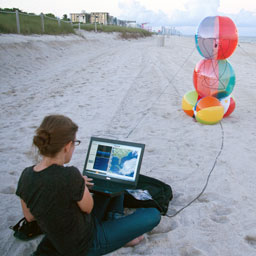 Heidi Neilson is an artist addressing topics connecting people with above-earth atmospheric spaces, such as relationships with weather and outer space. Her work, often collaborative and publishing-based, has been supported by the Art Matters Foundation, the Bronx Museum of the Arts, the Center for Book Arts, The Drawing Center, Flux Factory, the Lower Manhattan Cultural Council, the Lower East Side Printshop, New York Foundation for the Arts, Provisions Library, the Queens Museum of Art, Visual Studies Workshop, among others. She is a member of the ABC Artists' Books Cooperative, co-founded SP Weather Station, and her work is included in over 60 museum and university collections. Born in Oregon, Heidi received a BA in biology from Reed College and an MFA in painting from Pratt Institute, and lives and works in New York.
---
Presenting
Outernet & Beachball Antennas: Individuals Using Space Networks
Outernet Library Branch – Wave Farm is a radio receiving station for Outernet data transmissions installed in June 2016 for long-term operation on the grounds of Wave Farm, in Acra, New York. The Outernet, an expanding library collection of data broadcast from a network of satellites in space, is a new and separate system outside the Internet. Outernet Library Branch–Wave Farm features a satellite dish antenna surrounded by Adirondack-chair-inspired seating, with a bench oriented toward each cardinal direction. A WiFi network access area is defined by a large mowed meadow. In addition to seating, the structure houses a box for electronics and a single physical library reference book located under the east bench. On entering the library area and perhaps taking a seat, a library branch visitor may read, view, listen to, and save library materials transmitted from space using a browser on their cell phone, tablet or computer.
Miami Beachball Antennas is a series of site-specific pop-up installations on Miami beaches. Large beachballs are repurposed for use as inflatable antenna structures which are tuned to receive weather satellite image transmissions from NOAA satellites. Beachgoers can watch images of the shoreline emerge from transmissions recieved, live, as weather satellites pass by high overhead.