Sebastian Morales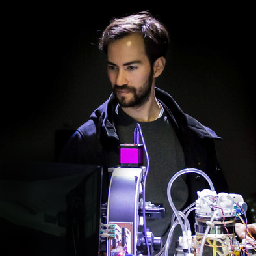 Sebastian Morales is a Mexico-born, New York-based artist, engineer, and researcher. He develops interactive works at the intersection of robotics, digital culture, and living systems. His current work focuses on creating speculative symbiotic ecosystems between single cells organisms and primitive organisms from the internet. Together, evolving into new hybrid forms.
---
Presenting
symbiosis.live: Bots, Cells, and Humans Watching
Part digital, part physical, fully alive. Symbiosis.live is an estuary website where cellular organisms meet their digital equivalent, internet bots. Together, they begin to develop a symbiotic ecosystem, bots travel the world through cables to deliver food into the bioreactor. The cells, in turn, modify servers to attract or repel internet bots. Humans are invited along, but only as observers.
The project started looking at server logs, in particular at automated traffic reaching the server. Where are these requests coming from? What are they seeking? The more I dug, the more these bots started looking alive, organisms migrating around the world, following links, communicating with their kind, swarming and fleeing. These organisms are very primitive, early specimens in the existence of the internet. What could happen if they met with their organic equivalents?
Symbiosis.live is made out of custom servers and a DIY bioreactor. Together, they clash both lifeforms, allowing them to affect one another. Unknowingly, unwittingly unavoidably.
Additional information