Darius Kazemi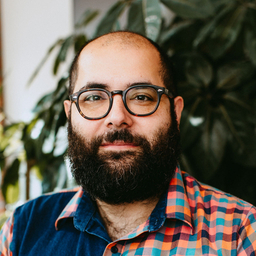 I'm Darius Kazemi, and I'm an independent artist and programmer. I'm known for making art bots on social media and also my work in open source software. In particular I'm interested in re-decentralizing the internet and empowering communities to set their own norms online. I also run an internet history blog because I think if we're talking about the future of the internet we should probably look at how people talked about building the internet in the early days. I co-founded Feel Train, a creative technology cooperative in Portland Oregon, and I was a Mozilla Open Web Fellow in 2018-2019.
---
Workshop
Run Your Own Community Social Network

This workshop is based on Run Your Own Social: How to run a small social network site with your friends. This is a 10,000 word guidebook I wrote as the culmination of my 10 month Mozilla Open Web Fellowship. It comes from a practical place: I spent a year running a small social network site for my friends, and I learned a lot of practical things from doing that. Plus I have spent a lot of time researching and participating in other decentralized social network sites and have a lot of thoughts on the future of social media and the internet in general, specifically in terms of practical places we could take it in the next 1 to 3 years.
This workshop will assume the attendees have read the guide ahead of time as preparation, and the workshop will put this stuff into practice in front of attendees. We'll be setting up a social network site live, for the group of attendees of the workshop. This will use the popular open source Twitter-like software Mastodon. Whether this network lives a long time or just for the duration of the workshop is really up to the attendees, but I want to show them that it's possible to set this kind of thing up for a small community quickly.
We will all onboard each other onto the community and come up with guidelines that make sense for our context, and attendees will get to experience being administrator of such a network and what that entails, as well as the nitty-gritty technical bits. No programming will be required, though I am able to answer programming questions if people have them.
The workshop will run Friday, October 18, 2019, from 9:00 am - 4:00 pm, including a one hour lunch break. Tickets are available here.
Estimated format of the workshop will be 3 hours of lecture and 3 hours of hands-on lab. Participants should bring either a laptop or a mobile phone with a web browser installed.
Additional information